The era of the smartphone and the rise of mobile devices worldwide have led to mobile apps becoming a crucial aspect of every company's strategy, with the intent of enhancing its digital presence, accessibility to customers, and brand awareness. The global impact of COVID-19 also resulted in traditional policies for businesses switching over to mobile apps, rendering people more dependent on their mobile devices, in fact, mobile app revenue worldwide is expected to reach around $613 billion by 2025.
The mobile app industry evolves daily with approximately 3.5 million Android apps and roughly 2.2 million iOS apps, this drastic adaptation of mobile apps across different sectors are commonly segmented among gaming, entertainment and music, health and fitness, travel and hospitality, retail and eCommerce, education and learning, and more. Therefore, in order to maintain your presence in today's cutthroat digital industry, it is vital that you keep in line with current trends in mobile app development. This blog can help you better envision the future that lies ahead.
5G Technology
5G is already a popular subject among internet users, with lower latency, faster data transfer, and speed, 5G has set out to transform mobile apps and app development. According to a study, 660 million smartphones worldwide are expected to be 5G-enabled by the end of 2022. This widespread adaptation is sure to result in higher quality apps, enabling between 1.6- and 15.7-times faster-loading speeds when compared to 4G, giving users more time to engage multi-featured apps and AR & VR 3D objects.
2.      Augmented and Virtual Reality
AR and VR mobile apps are redefining smartphone app development for the past couple of years, they offer an immersive experience and are expected to play a significant part in mobile apps, especially for segments such as gaming, travel and tourism, entertainment, and live streaming. In fact, AR and VR is forecast to reach over $250 billion by 2028.
It's more than likely that in the next couple of years you'll be witness to mobile app developers using these technologies to mesmerize our lives AR/VR technologies have already being integrated with eCommerce stores to heighten and personalize user experiences by allowing shoppers to visualize how clothing look and fits. The healthcare industry on the other hand uses AR and VR to perform live surgeries from any part of the world.
3.      Artificial Intelligence and Machine Learning
In the app development industry, artificial intelligence and machine learning are very important. The role of artificial intelligence, known as machine learning, on smartphones is far beyond virtual assistants or AI-based photo filter apps. It boasts a more active role with the involvement of user predictions, voice and language translations, and AI-based camera recognition, essentially making mobile apps more intelligent with AI-powered solutions that analyze user behaviors and implement actions that boost efficiency and enhance user experience.
Businesses that host Software as a Service (SaaS) or Software as a Product (SaaP) can also employ AI to significantly improve their mobile apps with a range of features, including:
Facial, speech and emotion recognition
Predictive analysis and recommendations
Photo animation
Search and navigation improvements
4.      Mobile commerce
Mobile apps are now used by all industries, from large enterprises to small retailers. These apps add value to the customer journey by saving time, increasing the convenience and efficiency of the user's purchasing process, then can help in improving conversion rates, boosting customer engagement, and growing revenue.
Mobile commerce, also known as mCommerce caters to the growing population of mobile users who opt to shop directly through apps over web pages. According to a recent study, mCommerce volumes are expected to hit $620.97 billion, or 42.9% of eCommerce, in 2024. Increased mobile app usage is also expected to surge consumer spending across global app stores, forecasted to reach $156.5 billion by 2022.
5.       Internet of Things (IoT)
The Internet of Things (IoT) is an advanced technology that works based on the interaction between people and data. Today, the internet has made its way into our lives by giving you control over almost everything from your kitchen, bedroom, or car with only an IoT-enabled mobile app, an internet connection, and an IoT-powered device. Businesses from across various verticals are quickly adapting to IoT trends and the value they bring to enhancing the customer experience of mobile apps.
6.     Blockchain Technology
Blockchain ensure the complete security of all sensitive data and information. All transactions, shared documents, and data exchanges remain untraceable, making it one of the best solutions for cybercrimes. Blockchain enables mobile app developers with a wider platform and decentralized apps that are better able to manage the pools of our information and eliminate data penetration.
Additionally, following the COVID pandemic, more and more people opted for using digital cash transfers instead of cash and within a short time, secure, hassle-free digital cash flow became popular across the globe. It is therefore important to leverage blockchain technology to better manage online payments and data transfer.
Wrapping up
We've indeed come a long way in terms of technological improvements, the future entails exciting mobile apps that leverage modern technologies and innovations. After all, can we picture our lives working regularly without the use of high-tech gadgets and creative software's?
Staying competitive in today's cutthroat, mobile-centric landscape requires you to be innovative, current, daring, and most of all proactive. The use of cutting-edge technology and app development trends of 2022 and 2023 are bound to make conceptualizing, creating, and developing agile new apps or modernizing existing ones more effective than ever before. Helping you stay ahead of the competition, increase your time to market, and excite your target audience with thrilling new features and functionalities.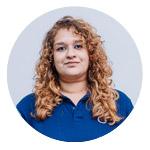 Mikelly Silva
Manager Marketing