When is it Time to Outsource Your IT Operations?
In today's volatile business markets, modern companies strive for competitive advantage as they are often faced with emerging trends and new advanced technologies that evolve at the speed of light. For the same, outsourcing IT strategies and the top-notch experience of third-party developers have proved to be the answer to their prayers, helping businesses digitize their processes, innovate, and survive among other companies present on the market.

With the boom of the IT sector in the last decade, the IT outsourcing market is projected to reach a market demand of USD 429,291.7 million by 2025. Farming out key IT services transforms businesses with a vibrant digital presence, it helps in enhancing customer satisfaction, reducing labor costs, improving the performance of in-house teams, and ensuring flexibility in scaling as per customer demand.

In this article, we'll deep dive into the benefits of IT outsourcing, the factors that led to establishing an external engineering team, and outsourcing tips for software development projects.
What is an IT Outsourcing Strategy?
IT Outsourcing is a corporate strategy for hiring foreign or local third-party providers to handle IT functions such as software development, infrastructure, and support. IT outsourcing strategies are often a long-term plan that describes which projects or tasks should be delegated to an external development team, in order to cut costs, save time, and better manage resources, whilst leveraging the experience and performance that your in-house team might not be able to match.

There are a large number of traditional and innovative outsourcing strategies. Over the years, these strategies have evolved into different types that have specific purposes. Outsourcing can be divided into:
Onshore

– when you choose to hire third-party services in your own country

Nearshore

– involves hiring a service provider from neighboring countries

Offshore

– moving development projects to a remote location, irrespective




of the proximity
When establishing such a working arrangement, the hired service provider remains responsible for its workforce, process, and platforms to deliver the expected services and project deliverables, either on-site or offsite. Simply choose the most appealing and appropriate plan that best suits your outsourcing needs to enable efficient project turnover and better throughput.
When should you outsource IT services?
Choosing to partner with an external software development team is a path that is not fully explored by business owners. However, there are a number of cues to identify when it's time to outsource software development.

- Difficulty finding the right talent : Your in-house IT team may not have the technical knowledge required to bring your idea to life. This can quickly make your team feel overwhelmed, which in turn can result in high employee turnover. The right external development partner will oversee and manage the complete development of your project, from the initial feasibility study to prototyping, full-scale development, systems management, integration, testing, and support. Moreover, experienced IT outsourcing providers often have a large recruiting team and an impressive internal candidate base.

- You are spending too much on IT : When running an in-house IT team, it's likely that you'll need to invest a lot of money into compensating and training your IT staff. IT employees usually demand higher pay especially if they are specialized in specific areas such as API integration, DevOps, or data science. Additionally, with the ever-evolving IT landscape, there is likely to be a new framework or technology on a daily basis and if you are not providing the right training to your IT staff, then they will become ineffective. All these costs can be avoided if you are working with a good third-party development team, where you'll only need to pay the fixed fees to your development partner, they also provide the best training to their team of IT professionals. Moreover, you can achieve business goals more cost-effectively due to low labor costs in overseas markets.

- Failure to meet deadlines : Adhering to project timelines is vital to the success of any project. This could be because your in-house team may not be experts in the area, and if you were to hire experts it's likely you would need a big budget. For example, if your team is struggling with an application modernization project, scaling up or adding a separate team of offshore developers is the best solution to this problem. Your projects will be completed by experts which means project bottlenecks are less likely, helping you save money and achieve a faster time to market.

- Loss of focus on critical business operations : As your business grows, the demand for a more secure and complex IT infrastructure grows along with it. However, if IT is not a core part of your business and you spend a large amount of time operating and managing software development projects, it's likely you'll lose focus on other critical operations and on achieving your business goals. This is when an outsourcing partner plays a major role, they can easily strengthen the delivery capacity of your project with an all-around team of intelligent developers, designers, and business analysts, helping businesses scale quickly, increase productivity, meet development deadlines, and enhance customer satisfaction.
What IT Services Are Usually Outsourced?
Before you start developing your outsourcing strategies, it's important to understand what IT services can be outsourced. Enabling you to appropriately request the required set of services that need to be achieved within a predetermined time frame. The most widely outsourced services are:
Custom software development

Web application development

Mobile application development

DevOps

Data science and analytics

Application modernization and support

Data cloud migration and storage

System integration and middleware development
4 Best Practices in Outsourcing Project Work

The success of outsourcing depends on a number of aspects, it is important to have a clear-cut understanding of the work you want to outsource, outline instructions about the task or project, and have realistic expectations of the outcome and timelines before hiring external services.

1.     Determine the goals and scope of outsourcing: Once you have decided to initiate an outsourced software development project, you will need to identify what aspects of the project you want to outsource. Conduct an analytical study to better understand what activities can be completed in-house and what would require the technical expertise of an external development team.

For a successful outsourcing strategy, it is important to:
Define clear goals with both long-term and short-term requirements.

Ensure you have a precise and holistic understanding of the software development project you are outsourcing.

Prepare all the relevant specifications and document the responsibilities and expectations of your external development team.
Be prepared to answer questions about your business, project goals, and the unique nature of the project. The more information you provide to the development partner, the better they can estimate the size and cost of your project, develop project timelines, align their processes with yours, and select the most appropriate development methodology.

2.    Choose the right service provider: The ideal vendor should be able to meet your needs and be capable of implementing tasks of any complexity. Research the reviews of the dedicated software development teams, see what their existing clients have to say, assess their talent pool, and even try to get referrals. Also, make sure your in-house staff is involved in this process for they may have invaluable insights on project scope and challenges. 

3.     Decide on the engagement model: Once you've decided on a development company for your next project, it's crucial to know what financial resources you are ready to allocate for the development process. Discuss the pricing and engagement model with the chosen development partner, and ensure the transparency, flexibility, and scalability of the development team. At this stage, you should also finalize the development cost, duration, delivery, and release date, among other factors.

4.    Sync up regularly: Make sure you are getting what you have paid for, agree in advance to receive updates on a fixed schedule. Transparency and synchronization on the project's progress can be daily, weekly, or even monthly, ensure discipline in keeping to the agreed-upon time, especially if your outsourcing team is in a different country or region. Additionally, centralized storage of all project communications will increase accountability and encourage real-time collaboration, resulting in a more efficient, productive, and profitable project.
Wrapping Up
Taking the above into context, outsourcing has proven to be a very cost and time-effective option when effectively managing software development projects and digitization initiatives, helping businesses benefit from increased efficiency, strategic flexibility, market-oriented innovation, and agility. In fact, 78% of businesses all over the world feel positive about their outsourcing partners.

This powerful strategy has helped millions of companies benefit from highly qualified, specialized offshore developers who can provide faster, cheaper, and easier development of your projects. However, be mindful when taking this path, ensure you have a clear, detail-orientated plan and predefined KPIs. Encourage transparent collaboration with the selected IT outsourcing strategy partner to enable a successful project that will bring about a number of business advantages.

If what you want is to bring your idea to life, talk to our experts today to find out how we can support you. We have hundreds of qualified professionals with the relevant experience who can help you not just with defining your IT outsourcing strategies but also be instrumental in building an innovative solution that will ensure your ultimate growth, drive revenue, and meet evolving customer demands.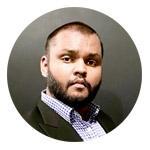 Sheran Wijesinghe
Market Researcher