Looking for benefits of mobile apps for retail stores?
A retail app is more than just an inventory database. It's a tool that can help you grow your business and make it easier to manage. If you are using a retail app, you essentially have the power to get all the details of your business in one place. Conveniently, also be able to do online transactions in real-time.
1. Inventory Management
One of the main advantages of using a mobile app for your retail store is that it keeps track of your inventory. The app will allow you to manage your stocks, keep track of sales trends, and highlight those which should be replaced.
Additionally, can send push notifications or emails to customers when new items are in stock so that they can see what's new at the store and come back for more.
Keep in mind that there are different ways a mobile app can help you with inventory management:
It allows you to create new products on the fly by taking photos or scanning barcodes.

It gives users access to view existing product lists, photos, or videos, and they can see what they buy before buying it.
2. Customer Loyalty Programs
Customer loyalty programs are a great way to increase customer retention. A loyalty program allows customers to earn points for each purchase, which can be redeemed for rewards like discounts or coupons. When your customers see that you appreciate their business, they're more likely to come back!
3. Boost Your Sales
The best way to keep your customers updated is through the mobile app. You can send emails, push notifications, or text messages to customers who subscribed to particular products, services, or even newsletters.
You can also develop an app that provides the latest information about new products, product updates, and so on.
You may want to invite customers over social media like Facebook, and Twitter, and even email them directly with details of any promotions that are running at the moment.
4. Manage New & Old Orders with Ease
Managing your orders on the go is really easy with a mobile app. You don't have to log into your website or wait for a call from the customer to manage order details and status.
You can do it all in one place, which saves a lot of time, especially when you are busy in-store serving customers.

With smart features, you would essentially manage:
Order status
Order details
Order history
Order shipping/delivery status
5. Customer Feedback System
Customer feedback is another crucial part of retail stores. Customers can give you feedback about the products, services, and even on working staff. This is essential to improve your business.
The best way to gather customer feedback is through a mobile app. With this, you can ask for customer feedback and get it instantly in real-time without the wait for someone's response through social media or emails.
6. Delight Your Customers with Mobile Offers
Mobile offers are a great way to engage customers and encourage repeat business. You can send push notifications or texts to your customers and let them know about the ongoing offers.
Through mobile, a customer does not have to check emails or websites daily for offers, which then they are more likely to respond to offers and make purchases as convenient.
7. Keep Track of Your Business Performance Anytime, Anywhere
The mobile app lets you access your business information through all your devices. As a result, you now have access to your business from anywhere in the world.
8. After-Sales Support
After-sales support is another factor that can help you bring in more customers to your business. You need to be able to provide after-sales support to your customers when they face any problem with your product or service.
The key to building a good customer base is vouching for a good business experience. You can make use of mobile apps to provide after-sales support by giving them a call or email and helping them solve their problems.
9. Net Banking, Mobile Wallet, Credit Card, and Debit Card
Payments can be made through net banking, mobile wallets, credit cards, or debit cards anytime, anywhere, and on the go. Enabling convenience is one of the great aspects of your business being available on mobile.
10. Automating Your Business
A retail app is a good tool for streamlining various aspects of your business. A custom-tailored app to suit your business and undertake the tedious and analytical work -is an absolute necessity. In any successful business, convenience to maintain is key.
Here are some of the ways retail businesses can benefit from automating tasks with an app:
If you are new in the retail field, then this blog is especially for you.

Getting the technical groundwork done is crucial for any business. If you plan on starting an online store, mobile apps are the best option. With the popularity of smartphones and tablets increasing day by day, people want everything at their fingertips and shopping convenience anywhere on the go.
Thus, every retailer must have their own mobile application to interact with customers across different places in real-time and provide them with high-quality service. This is also one way to attract potential customers from people that download the app or visit the website. 
Conclusion
People are curious creatures, and in this day and time, apps feed their curiosity with almost no substantial effort. Make the app good, and you will have a well-run business instantly.
The upside of using a mobile app for your business far outnumbers any possible cons, and they can work wonders for your business. All you need to do is hire a team of experts who will develop a mobile app according to your needs so that it can perform all these functions efficiently.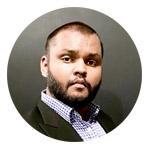 Sheran Wijesinghe
Market Researcher